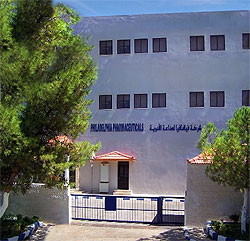 Over the last 25 years, Philadelphia Pharmaceutical company has passed several steps in its journey towards becoming one of the successful players in pharmaceutical industry in the region.
Philadelphia is a Jordanian pharmaceutical company specialized in development, manufacturing and marketing of human pharmaceutical products, cosmetics and medical devices of different therapeutic categories .Philadelphia was established in 1993 by the successful cooperation and integration of qualified technical experts with a passion of doing level best to enable the company to produce quality products that all can trust.
Philadelphia was approved by the MOH and took part in pharmaceutical industry in 1997. Since that time, the company focused on covering local market demand and expanded its operations through potential large export markets of the Middle East and North Africa. Philadelphia operates in total compliance with cGMP (Current Good Manufacturing Practice).and approved by JFDA in addition to approval of health authorities of different countries in the region.
This process is achieved by a high-tech quality assurance and quality control laboratories equipped with various required equipments and instruments, and technically operated by a number of highly qualified and well trained employees.

Production facilities :

The factory operates on a 4200 Square Meter facility, with a 1000 Square Meter ready for future expansion. It is located in King Abdullah II industrial Estate ( 25 km far from the center of the capital city, Amman). The plant facilities include two main production lines which produce a variety of products, these include:

1- Semisolid Dosage forms:
Such as:(creams, ointments, lotions, gels and suppositories).
2- Liquid Dosage forms - Oral and Topical:
Such as: (syrups, suspensions, solutions, nasal drops , mouth washes and vaginal douches).

Quality Control and Analysis Department :

To ensure and guarantee the optimal quality of the products , Philadelphia Quality Control and Analysis Department is prepared and equipped to run various analysis and testing, including chemical, physical & microbiological analysis of the starting incoming raw materials , packaging materials, in process control and finished products. The Department is technically operated by a group of highly qualified employees. It is divided into four major units:

Physical & Chemical analysis Lab.

Microbiological analysis Lab.

Receipt & Inspection unit .

In-process control unit.

Research and Development laboratories :

To build the quality within the product , the R & D department is concerned with pre-formulation , formulation , stability and validation processes for the products . Post marketing and real time stability testing and follow up are a routine work in these laboratories .

Personnel & Administration:

The company is managed by an outstanding team administratively and technically , at both levels: Board of Directors level and Executive Management.
We Believe that every team member is important and adds value in what he or she does. We respect the individuals' capability and provide the environment for individuals to excel within our teams to achieve the company's goals and objectives.
Our strategy is to offer a flexible and healthy work environment which allows our colleagues to achieve balance between their personal and professional life.