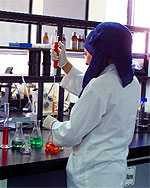 Philadelphia Pharmaceuticals is committed to the delivery of safe and effective products to patients, consumers and customers through implementation of a comprehensive Total Quality Management System and having an accountable team.
Our performance is monitored and regularly reviewed to ensure meeting quality for our customers, patients, and stockeholders.
Quality is integrated into all of the industrial and technical practices in Philadelphia Pharmaceuticals.
Our manufacturing operations and related services comply with good manufacturing practices (GMP) and directed into the minimization of potential risks.
Philadelphia is committed to comply with ISO 13485: 2016 (Medical device Quality Management System), 93/42/EEC directive for Medical Devices, (ISO 9001:2015 Quality Management System) & (ISO 22716:2007 Cosmetics Good Manufacturing Practices), JFDA and any related regulatory requirements and to maintain the Total Quality Management System.
Philadelphia employees have the appropriate education, training, skills and experience to carry out their work competently, in accordance with applicable regulations and Philadelphia Policies and Procedures.
As part of our commitment to continual improvement, we measure, assess, and report quality, and seek ways to continually improve quality performance and results.